Welcome Sinclairville Elementary families to the 2022-2023 school year!
Sinclairville's school counselor for grades PreK-4 is Mrs. Amy Raynor. Mrs. Raynor is available 8:30am-3:30pm Monday-Friday during the school year. Parents and guardians can contact Mrs. Raynor by telephone or by email.
If you have questions or concerns, please reach out at araynor@cvcougars.org or 716-962-5195 ext. 2405 during school hours. If there is an emergency please call 911.
Our Vision:
Sinclairville Elementary School strives to provide a Comprehensive Counseling Program which will empower and promote self-confidence, motivation, and academic success in a healthy, trusting, safe environment where every voice is heard and student potential is affirmed.
Our Mission:
The Elementary Counseling Department in support of the district's mission and goals will nurture our school community by advocating and promoting for a healthy learning environment, engaging students and striving towards academic, personal and social growth. The school counselor works collaboratively and partners with parents, teachers and administrators along with other stakeholders to ensure long-term success for all students. We recognize that every child can learn and offer unique contributions and it is the goal of the counselor, school and community to empower and equip every child with problem solving, conflict resolution and decision making skills, which will allow them to realize their fullest potential as leaders and lifelong learners.
Elementary School Counselor Beliefs:
All students are valued as individuals with unique leadership abilities and are surrounded by positivity and are seen as capable of achieving their highest potential.
All students will have a safe and trusting learning environment which promotes student leadership and active engagement, mutual respect in a system to support school wide and classroom learning.
All students will have access to an educational experience which values collaboration and consultation, with colleagues and partnerships with community agencies or resources that support immediate and long term needs of all students.
All students will be supported by a comprehensive school counseling program that meets their social, emotional, academic, and career development that is guided by a school counselor who abides by professional school counseling ethical standards.
All students will be supported by data to assist with determining individualized needs, goals, and to monitor growth and progress.
Why Children Need School Counseling?
Children learn best when they feel good about themselves & their relationships with others.
Children are better able to make good decisions when they understand their feelings.
Positive skills learned in the early years help shape future attitudes.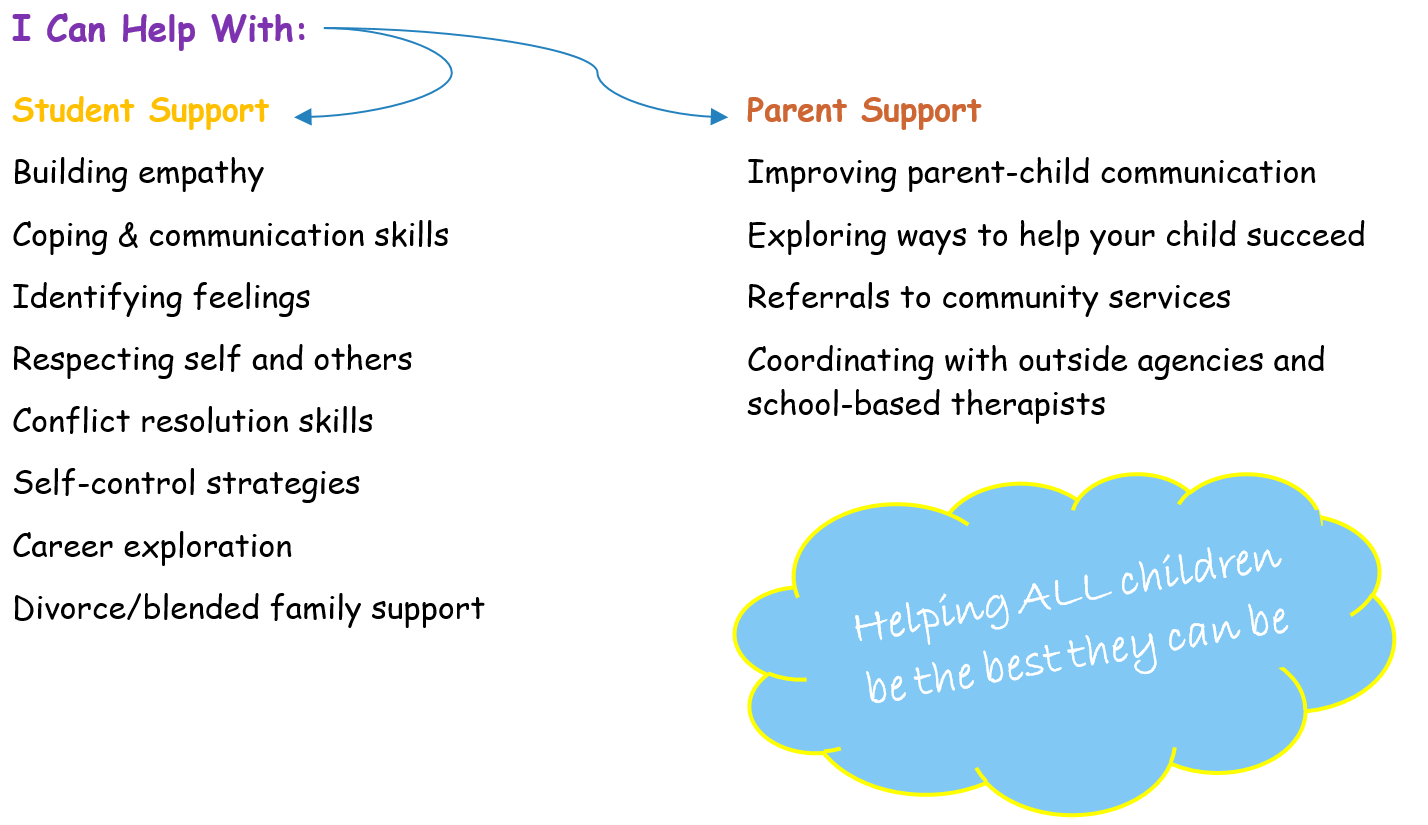 Resources & Support
Agency Resource
We're Better Together
Elementary School Counselors help students gain the skills necessary to be successful learners.
· Classroom Lessons –Counselors teach lessons in classrooms on topics such as personal safety, internet safety, study skills, decision making, bullying prevention, career exploration and conflict resolution skills.
· Small Groups- Counselors work with students in small groups of 4-6 students in their office to discuss friendships, organization and academic skills, divorce/blended families and losses/grief counseling.
· Individual Counseling- Counselors work with students individually for short term counseling needs. If your child needs more support, your school counselor can help you find the resources that you need.
School Counseling is for EVERYONE
School Counselors also work with parents & teachers too support student learning for academic and social emotional support.
School Counselors are here to help!
If you have questions or concerns about your child's academic success concerning behaviors, friendships, family changes, strong feelings or any difficult experiences.
September Lessons
PreK-4 Welcome Back Visits – "Who is the School Counselor" this lessons will introduce the role of the counselor and provide students with the information they need to know regarding support within the classroom, school wide initiatives, small group and individual counseling opportunities.
Lunch Buddies K-4
The Lunch Buddies group (Open to ALL) at the beginning part of the school year per grade level for approximately three times. This group will meet in the school counselor's office to work on skills and discuss topics like the importance of making and keeping friends, showing respect and accepting others, and concerns/ adjustments to the new school year. Some issues we may discuss are responsibilities, helping others, being a good sport, listening, sharing, and fairness. Please fill out this form if you are interested in participating.
Small Groups/Lunch Bunch K-4
These groups are formed when the school counselor analyzes school-wide data and individual data when selecting who to invite to the lunch bunch. Counselors accept referrals from parents, teachers, administrators, school based teams and students.
Permission slips for both groups will be sent home to parents/guardians. The Lunch Bunch groups are 6-8 weeks long. The counselor collects data to evaluate the success of the group in order to improve programming and opportunities for our students.